Samsung-NP530U4B-S02IN
Samsung-NP530U4B-S02IN Specification:
OSWindows 7 Home Premium
Screen14 inch HD LED Screen
ProcessorIntel® Core™ i5 Processor 2467M Intel® Core™ i5 Processor 2467M
RAM6GB DDR3 RAM
Storage1 TB Hard Disk Drive
Graphics1 GB AMD Radeon™ HD7550M
DVD Drive
Camera
Card Reader
Battery
Connectivity
Ports
Weight
Max.Thick
Warranty
Samsung-NP530U4B-S02IN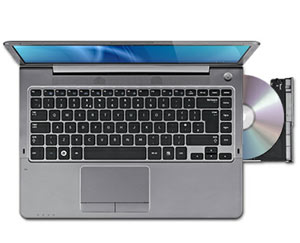 Genuine Windows® 7 Home Premium (64-bit) operates the Samsung-NP530U4B-S02IN laptop at Speedy access to your favorite pictures, songs, websites, and documents.This is designed to sleep and resume quicker, and spot USB devices faster.
Intel® Core™ i5 Processor 2467M supports all basic and intermediate technologies and instruction set extensions,but fails to process certain business oriented technologies like Trusted Execution.
Having the Hard Disk Drive of 1TB with over 2* which offers multi task actions efficiently, and that is upgradable upto 8GB to store the compound data. The power management in HDD uses  specific power modes that save energy. 1 TB HDD have a read/write at a high speed in comparison to optical media.
The AMD Radeon™ HD7550M GraphicsTechnology offers support for Blu-Ray 3D and 3D displays (integrated and external). 6GB DDR3 System Memory at 1,333MHz offers quick data access time which gives swift operating experience even if  the laptop opened with multiple programs.In addition it  includes a  HDMI port, VGA port and integrated optical disk drive.
Related Laptops