Samsung NP550P5C- SO2IN
Samsung NP550P5C- SO2IN Specification:
OSWindows 7 Home Premium
Screen15.6 Inch HD LED Display
ProcessorIntel® Core i7 2nd Generation 3610QM
RAM8 GB DDR3 RAM
Storage1 TB Hard Disk Drive
Graphics2 GB DDR3 Nvidia GeForce GT 540M
DVD Drive
Camera
Card Reader
Battery
Connectivity
Ports
Weight
Max.Thick
Warranty
Samsung NP550P5C- SO2IN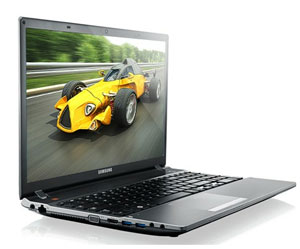 This laptop coming with  Intel Core i7-3610QM is a fast quad-core processor, performance it delivers is exceptionally good, considering Hyper-Threading Technology and Turbo Boost.Obviously you can play even the most demanding games at the highest settings. It is built with Intel HD Graphics 4000 offers 16 Execution Units with turbo boost making it as a fastest one.
This NP550P5C- SO2IN laptop is pre-installed with the OS edition  Window 7 Home Premium contains the home market segment, such as windows media center and window aero. The 8GB RAM features much higher access speed and the size of Hard Disk Drive is more than expected 1TB.
NVIDIA GT 650MX graphics offers extra-ordinary performance and  tremendous energy efficiency, thereby you can feel the silver screen effect on your 15.6 Inch laptop display.
You are offered to live the  outstanding in the performance of  JBL audio  speakers including  a subwoofer unit that increases the deep tones below 80 Hertz.
Related Laptops