Toshiba L850-Y3110
Toshiba L850-Y3110 Specification:
OSWindows 8 SL
Screen15.6" Display
ProcessorIntel Core i7 3630QM Processor(2.4GHz)
RAM8GB DDR3 RAM
Storage750GB SATA
GraphicsATI Radeon™ HD 7610M (2GB Dedicated Graphics)
DVD Drive
Camera
Card Reader
Battery
Connectivity
Ports
Weight
Max.Thick
Warranty
Toshiba L850-Y3110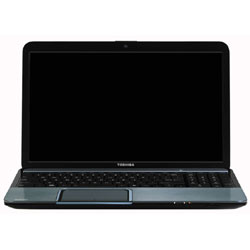 A powerful laptop from Toshiba with Core i7-3630QM 2.4GHz Processor and with a 2GB of dedicated graphics(ATI Radeon™ HD 7610M). Come with pre-installed Windows 8 (64Bit) operating system.There are two memory slots with two memory modules of each 4GB on it and expandable upto 16GB.
Special Features: Metallic Ice Silver with Hair line Pattern. USB 3.0 (10 Times faster then USB 2.0). BT 4.0 (8 times faster then BT 2.1 area covered – 50 Mtrs). With SRS Premium Sound HD™.
Related Laptops