Toshiba Laptop C850-E0010
Toshiba Laptop C850-E0010 Specification:
OSNo Operating System
Screen15.6" Display
ProcessorIntel® Celeron B820 Processor 1.7 GHz
RAM2GB DDR3 RAM
Storage320GB SATA
GraphicsIntegrated Intel® HD Graphics
DVD Drive
Camera
Card Reader
Battery
Connectivity
Ports
Weight
Max.Thick
Warranty
Toshiba Laptop C850-E0010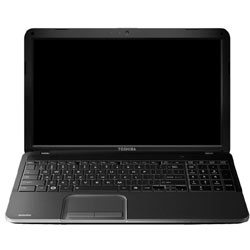 A 15.6inch displayed laptop from Toshiba at a mind blowing price. Well suited for students. It comes without OS. The Intel Celeron B820 Processor is not so powerful on handling multiple tasks if you install Windows 8 OS. There is no additional memory slot to expand it along with the existing memory module. We need to remove the existing one so that we could insert a 4GB (Price Approx Rs:1400) or 8GB(Price Approx Rs:2200) module in it.
This Laptop comes with USB2.0 and USB3.0 ports. There is HDMI port to connect the laptop to external HD displays. Have built in WiFi and Bluetooth connectivity.
The Mutimedia card reader is a 5 in 1 type which reads SD, MS, MS Pro, MMC and xD Picture card ( Won't support Compact Flash and SDHC cards)
It is a cheap perfect laptop if you have the intention of installing your own OS on it.
Related Laptops