Toshiba NB510 – A1110
Toshiba NB510 – A1110 Specification:
OSMicrosoft Windows 7 Starter
Screen10 inch LED Screen
Processor1.6Ghz Intel Atom N2600M Processor
RAM2GB RAM expandable upto 4GB
Storage320 GB Hard Disk
GraphicsIntel HD Graphics
DVD Drive
Camera
Card Reader
Battery
Connectivity
Ports
Weight
Max.Thick
Warranty
Toshiba NB510 – A1110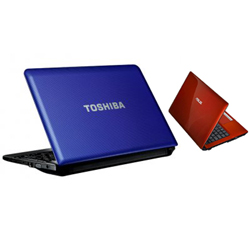 Toshiba NB510 – A1110 Mini-laptop is meant for average  class people comes with  1.6Ghz Intel Atom N2600M   processor with the operating system of Genuine Windows® 7 Starter. Has System Memory of 2GB enhanceable  upto 4GB and 320GB SATA 5400 rpm Hard Disk Drive. The additional features are HDMI, 3 x USB 2.0 Ports integrated with Wi-Fi 802.11 (b/g/n) and V3.0 Bluetooth . You can enjoy the Intel High Definition Audio and with the  tiny 10.1 inch WSVGA Clear SuperView LED Backlit Display.It empowers you with smart thing you  desire so that you can simply, feel free. It is truly smart, cheaper and attractive in colors too.
Specifications
Processor
 1.6Ghz Intel Atom  N2600M   processor
Operating System
 Microsoft Windows 7 Starter
Display
10.1 inch LED Backlit Display
1024 x 600 Pixels
Hard Disk Drive
 320 GB Hard Drive
RAM
 2 GB RAM
Connectivity
Wi-Fi IEEE 802.11b/g/n
Bluetooth v3.0
Graphics
Integrated Intel HD Graphics
Port
HDMI
3 x USB 2.0
Others
Intel High Definition Audio
Integrated Speakers
Intel NM10 Chipset
Related Laptops