Acer AOD 725 – Win 8
Acer AOD 725 – Win 8 Specification:
OSWindows 8
Screen11.6" Display
ProcessorAMD DC C70 Processor(1 GHz)
RAM4GB DDR3 RAM
Storage500GB Hard Disk Drive
GraphicsIntegrated AMD 6290 Graphics
DVD Drive
Camera
Card Reader
Battery
Connectivity
Ports
Weight
Max.Thick
Warranty
Acer AOD 725 – Win 8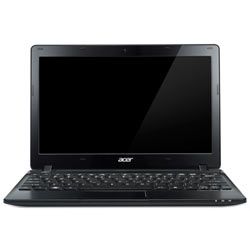 Acer Aspire One D725 (AOD 725) is a 11.6inch displayed mini-laptop with the AMD Dualcore C70 processor and integrated AMD Radeon HD 6290 graphics card. This AOD725 model comes with Windows 8 OS and priced below Rs 25000.
The base frequency of  AMD C70 processor  is 1.0GHz and the Turbo Speed is 1.33GHz which helps at times when the laptop needs more processing power. The integrated AMD Radeon HD 6290 graphics is a big advantage on this netbook as it offers noticeable performance boost. The processor is still less performing than a Celeron processor which comes on some basic cheap priced Laptop models.
The HDD is 500GB Capacity and 5400rpm type and the memory is 4GB DDR3 RAM. Weighing only 1.2Kgs and the 11.6 inch dimension pulls attention of mobile users towards this netbook. The construction of the body and the display hinges feels very strong and sturdy at the first impression itself. The display lid opens about 145 Degree wide which gives good viewing experience at some postures particularly lying on the bed facing upward.
The display is glossy and it is 1366×728 pixels resolution on 11.6 inch . Due to glossy finish you could expect reflections while using this AOD 725 netbook outdoor and will not feel good while reading text documents. Still the brightness of the display is good. Only problem is the glossy finish, so you may need to position the netbook not to reflect any bright areas while you are working on this outdoor.
The keyboard on this Acer Laptop is a chicklet type with good gap between the keys for comfortable typing. Like most of the netbooks available in the market, the arrow keys on this netbook also located at the bottom right corner with small keys. Not a big issue as long as the keyboard itself comfortable to type. The touch pad is big enough for good cursor moving and the mouse buttons (right/left) are placed on a sigle bar. Not is separate buttons.
It has VGA and HDMI out ports. USB2.0 and USB 3.0 ports for data transfer and RJ45 for LAN connection. The audio jack is of combination type (IN/OUT together). You can't use mic and headphone at a single time. Yes, it has a multi card reader ( SD, MMC, MS, MS PRO, xD) on the right side, placed at the front of all other ports. All the connectivity ports are on both sides of the laptop well placed for easy access.
For communication, it has the latest Bluetooth 4.0 and WiFi 802.11b/g/n. The LAN is 10/100MBit type not a Gigabit type for fast connectivity.
It has Crystal Eye HD Webcam for video chatting. The battery on this one is 4Cell 37Wh, which provides reasonable battery life.
Related Laptops