Acer Aspire E1- 531
Acer Aspire E1- 531 Specification:
OSLinux
Screen15.6" HD Display Screen
ProcessorDual Core B960 Processor
RAM4GB DDR3 RAM
Storage500GB Hard Disk Drive
GraphicsNo Dedicated Graphics
DVD Drive
Camera
Card Reader
Battery
Connectivity
Ports
Weight
Max.Thick
Warranty
Acer Aspire E1- 531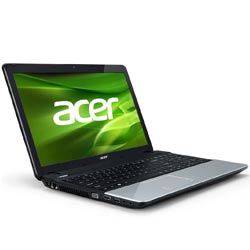 RECOMMENDED: This Laptop is elegant in design with Dual Core processor B960 and with Linux OS is one of the best offer from Acer. If you are looking for basic computer usage, Acer Aspire E1-531 is the right choice. Also comes with Windows 8 for an additional price of Rs-2500. But if you intend to use Linux on this machine, the latest Ubuntu distribution works perfectly without any conflicts.
With a polished grey outside look and Black/Silver internal color, the overall design of this laptop looks fantastic. With the 15.6 inch display, you could watch HD videos smoothly. There is no dedicated graphics on this laptop. But as we said earlier, this is a very basic laptop with a price tag of " Below Rs-25000″
The 15.6inch size 1366×768 pixels resolution HD LED Backlit TFT LCD Display (CineCrystal Technology) is without any big complaints delivering what a everyday laptop user will need. But the glossy finish with reflection will not help you to take this to outdoor. While you were outdoor, you may have to seek a place to hide the laptop from bright surrounding and sunlight.
It has USB 2.0 port, VGa and HDMI out ports. There is no USB 3.0 port on it. Gigabit ethernet and WiFi b/g/n is an added advantage. The Bluetooth is a V2.1 type.
DVD -RW drive, HD webcam, Multi card reader and 4GB of DDR3 RAM is a good offer from Acer, which is great while looking at the cheap price of this Laptop
Best recommended for Students and Daily computer users who is not going to use this for heavy tasks. For playing games, this Acer Laptop E1- 531 is not well a suitable model.
PROS
Very cost effective
Good design and build quality
Full Keyboard with numeric keys
Gigabit LAN
Acer Crystal Eye Webcam (1280 x 1024)
CONS
No Windows 8
No USB 3.0
No dedicated graphics
The processor is not suitable for heavy tasks
Single bar type mouse keys
Related Laptops