Acer Aspire E1 – 571
Acer Aspire E1 – 571 Specification:
OSWindows 8
Screen15.6" HD Display Screen
ProcessorCore i5-3210 Processor
RAM4GB DDR3 RAM
Storage500GB Hard Disk Drive
GraphicsNo Dedicated Graphics
DVD Drive
Camera
Card Reader
Battery
Connectivity
Ports
Weight
Max.Thick
Warranty
Acer Aspire E1 – 571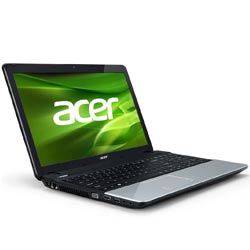 RECOMMENDED:If you are looking for a laptop with Core i5 processor and Windows 8 OS at price range of Rs: 35000, this E1-571 comes to your rescue. At this cheap price of Rs:[cf]price[/cf] what this laptop offers makes this a worthy buying and we recommend this for anyone who are looking for a Core i5 Laptop. Along with the hardware features it provides, the overall design of this laptop also a big attraction.
The dual color and the glossy surface finish makes this E1 571 looks elegant even this laptop comes under the affordable range. Powered by the Core i5-3210 Processor and with 4GB of RAM, you could start using this laptop without feeling any performance lag. The full size keyboard with numeric keys makes this laptop a perfect desktop replacement. The touchpad is located slightly offset by left side with a single bar type mouse button.
There is no dedicated graphics on this model. For normal computer use with moderate multi tasking, the i5 processor delivers its best. Also you could play games which needs less graphics processing requirements.
There are two other models with the same i5 processor available on this same serial number. The one with Linux OS and without Dedicated Graphics will cost you Rs:3000 less than this Windows 8 model. Another Acer Laptops model with the same E1-571 Model number with Linux and 1GB of dedicated graphics will cost the same price.
PROS
Very cost effective
Windows 8
Good design and build quality
Full Keyboard with numeric keys
Gigabit LAN
Acer Crystal Eye Webcam (1280 x 1024)
Powerful Core i5 processor
CONS
No USB 3.0
No dedicated graphics
Single bar type mouse button
Related Laptops