Acer Aspire E1 – 571G
Acer Aspire E1 – 571G Specification:
OSWindows 8
Screen15.6" HD Display Screen
ProcessorCore i3-2328 Processor
RAM4GB DDR3 RAM
Storage500GB Hard Disk Drive
Graphics1GB Nvidia Graphics
DVD Drive
Camera
Card Reader
Battery
Connectivity
Ports
Weight
Max.Thick
Warranty
Acer Aspire E1 – 571G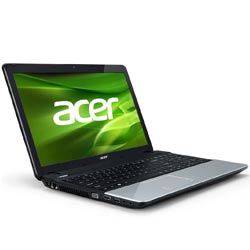 This Acer Aspire E1-571G model is an affordable laptop offer from Acer with Windows 8, Core i3 and 1GB Dedicated Graphics. However the processor is a 2nd Generation processor with slightly less CPU power compared to the 3rg Generation Processor. If you are into watching HD movies and playing Games frequently and specifically looking for a laptop with dedicated graphics priced at affordable region, this laptop model with nicely selected hardware configuration will best suit your type. If you are not a gamer, you better select the Acer Aspire E1-571 model which comes with Core i3 3rd Generation with HD4000 integrated graphics, which will save you power and will get you long battery usage.
The build quality of this laptop is really good and overall look and feel of this E1-571G Acer laptop model is attractive and comfortable. With the glossy grey outside and black/silver glossy finished inside, the design of this laptop will attract anyone at first look. The keyboard is also comfortable to type with the big enough touch pad located slightly moved left side to make it center to the full size keyboard for comfortable mouse operation while you typing.
While there are cheap laptop models which comes with USB 3.0 port, this one with this price tag of above Rs:30000, doesn't have any USB3.0 port. However it has 3 nos of USB 2.0 ports both at the left and right side of the body. There are HDMI, RJ45 and VGA ports. Supports two displays at a time. You can expand the memory of this laptop from 4GB up to 8GB, but the 2 memory slots on this laptop is occupied already with 2GB modules. So, in case of upgrade, you need to discard a memory module from one slot.
This model with 2nd generation core i3 processor, Windows 8 and 1GB Nvidia Geforce graphics comes at a price of Rs:[cf]price[/cf] while there is another E1-571 model with 3rd Generation Core i3 processor and Windows 8 OS without dedicated graphics comes with a price of Rs-500 less than this model.
Related Laptops