Acer Aspire One D270
Acer Aspire One D270 Specification:
OSLinux
Screen10.1 inch HD LED
ProcessorAtom Dual Core N2600 1.6GHz
RAM2GB DDR3
Storage320GB SATA
GraphicsNo Dedicated Graphics
DVD Drive
Camera
Card Reader
Battery
Connectivity
Ports
Weight
Max.Thick
Warranty
Acer Aspire One D270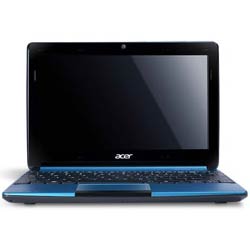 This Acer Aspire One D270 mini laptop comes without operating system. If you need an Windows based operating system and ready to spend an extra Rs-2000 better buy the AOD207 W7 model which comes with the Windows 7 Starter edition. You may install your favorite Linux distribution from a pen drive.
If you are looking for a mini laptop for Internet browsing, basic document and photo editing,  better buy this laptop and install a Linux distribution like Linux Mint , Lubuntu or Joli OS for a new experience.
Acer Laptop AOD207  Specification:
Processor: Atom Dual Core N2600 1.6GHz (2nd Generation)
Display: 10.1 inch HD LED display
Memory: 2GB DDR3 RAM ( No More Expandable)
OS: Linux
HDD: 320GB 5400 RPM
WiFi: IEEE 802.11b/g/n
3G: No
Bluetooth: Yes
Gigabit Ethernet: Yes
Battery: 6 Cell
Backup time: Upto 8 Hrs
Web Camera: 0.3 Mega Pixels
Touchpad: Yes
Keyboard: Standard keyboard at 93% of it's original size
3Nos USB 2.0 Ports
1 No – RJ45 LAN Port
1No – HDMI Port
1No – VGA port
1No Multi Card Slot
Related Laptops