Acer Aspire V3 – 571G
Acer Aspire V3 – 571G Specification:
OSWindows 8
Screen15.6" HD Display Screen
ProcessorCore i5-3210 Processor
RAM4GB DDR3 RAM
Storage750GB Hard Disk Drive
Graphics2GB Nvidia Graphics
DVD Drive
Camera
Card Reader
Battery
Connectivity
Ports
Weight
Max.Thick
Warranty
Acer Aspire V3 – 571G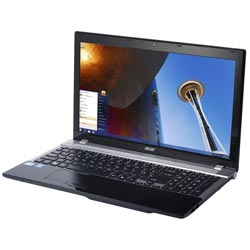 Acer Aspire V3 model is a perfect desktop replacement and this model 571G comes with 3rd Generation Core i5 processor and 2GB of Dedicated graphics to make it a powerful laptop. It comes with Windows 8 OS, 4GB of DDR3 RAM, 750GB of hard disk drive and a whole lot of latest connectivity and communication features.
We reviewed already the design features of this cheap version Acer Aspire V3-571 with Linux OS, so we are not going to explain more about it here. If you are looking for a powerful laptop with all kinds of features packed, this Acer Laptop is the right one for you. You will not complaint about this laptop from any direction if you bought it.
Related Laptops