Acer Aspire V5-471P-Core i3
Acer Aspire V5-471P-Core i3 Specification:
OSWindows 8
Screen14 inch Display
ProcessorCore i3-2365 Processor
RAM4GB DDR3 RAM
Storage500GB Hard Disk Drive
GraphicsNo Dedicated Graphics
DVD Drive
Camera
Card Reader
Battery
Connectivity
Ports
Weight
Max.Thick
Warranty
Acer Aspire V5-471P-Core i3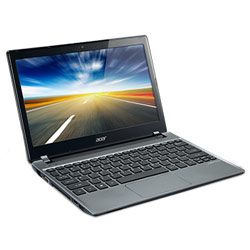 Acer Aspire V5-471P powered by the Core i3-2365 Processor which is a very old sandy bridge processor. The display on this laptop is multi-touch, works great on the Windows 8 OS. Comes with 4GB of RAM and 500GB of HDD, it a very basic laptop without great performance. The look of this laptop is not so appealing, Grey out side and grey inside with grey keys. Looks dull but for some one like the simple look, this design looks awesome. The thickness of this laptop is only 1inch at the thicker side and weighs approx 4.63 lb.
Feels sturdy while holding it on hand and the hinges looks durable. There are HDMI and USB 3.0 port at the side and combination VGA plus Ethernet port which needs an adapter for separate connectivity. The 1366×768 pixels screen is suitable for playing 720P videos and there are complaints about the colors it illuminates. Not a perfect display to watch HD videos and photos. If you are into photo editing on Photoshop, better look for another laptop with good display.
The processor is not powerful but for simple taks on Windows 8, there were no lags and it works smoothly. On multi-tasks, you could immediately feel the freezing and lack in responsiveness. Considering the price this Acer Laptop and the multi touch screen if you are looking it particularly on a Windows 8 laptop, this is highly recommended. But you need to sacrifice for many factors like- old processor, poor display colors,Combo VGA/Ethernet ports and dull look.
The keyboard is good to type and the multi touch pad with gesture support for Windows 8 works great.
PROS
Well Priced
Multi Touch Screen
Thin Design
Windows 8 OS
Good Keyboard
CONS
Dull Look
Poor screen colors
Old 2nd Generation processor
Less performance
Combo VGA/Ethernet Ports
4 Cell Battery
Suggestion:
If you are not much specific to the touch enabled display to experience the Windows 8, you better buy a i5 Ivy Bridge processor powered laptop for the same price with more RAM.
Related Laptops