Acer Laptop AOD 270 w7
Acer Laptop AOD 270 w7 Specification:
OSWindows 7 Starter
Screen10.1" LED Screen
ProcessorAtom Dual Core N2600 1.6GHz
RAM2GB DDR3 RAM
Storage320GB Hard Drive Drive
GraphicsNo Dedicated Graphics
DVD Drive
Camera
Card Reader
Battery
Connectivity
Ports
Weight
Max.Thick
Warranty
Acer Laptop AOD 270 w7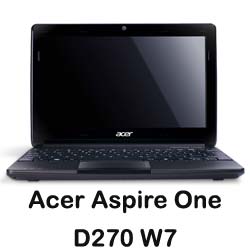 A 10inch displayed mini laptop from Acer with Windows 7 Strater Edition operating system is one of the best selling mini laptop in India. A perfectly designed netbook for light usage and for travel. Weighing only 1.3KG with 6 cell battery with a backup time of upto 8 Hrs. The keyboard size on this netbook is 93% of the standard keyboard size, which is comfortable to type. The 10.1 inch (1024×600 pixel resolution) LED display with the Intel's in-built HD graphics is bright and clear.
The processor on this netbook is the latest ATOM Dual Core N2600 ( 1.6GHz Speed) with a cache memory of 1MB. The in-built system memory is a 2GB DDR3 module which is the maximum supported memory size for this Atom N2600 processor and so there is no additional slot for upgrading. 2GB is well enough and upgrading memory on this laptop is not necessary in most cases. The 320GB Hard disk drive is a SATA type with 5200rpm speed is perfect to store large amount of data.
The multi-gestured touch pad, 0.3 megapixel web camera, Gigabit Ethernet port, WiFi 802.11b/g/n and  In-Built Bluetooth are all gives a perfect overall user experience at very affordable price.
There is no DVD Writer drive on this Acer laptop. So, if you need frequent reading and writing on optical discs, better to buy a portable DVD writer. An additional Bluetooth mouse also recommended.
Acer Aspire One D270 W7 Images
Related Laptops