Acer AOD 725 – Linux
Acer AOD 725 – Linux Specification:
OSLinux
Screen11.6" Display
ProcessorAMD DC C70 Processor(1 GHz)
RAM2GB DDR3 RAM
Storage500GB Hard Disk Drive
GraphicsIntegrated AMD 6290 Graphics
DVD Drive
Camera
Card Reader
Battery
Connectivity
Ports
Weight
Max.Thick
Warranty
Acer AOD 725 – Linux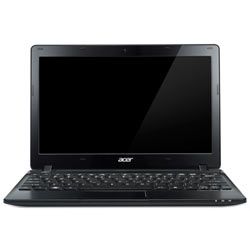 AOD 725-Linux  is the same like the one we reviewed, the AOD 725-Win8 which comes with the Windows 8 Operating system and 4GB of RAM, but this comes with Linux OS and 2GB of DDR3 RAM.
A quick explanation about this AOD 725 model. This one is a 11.6 inch displayed and weighing only 1.2KGs. Comes with the AMD C70 processor with an integrated graphics processor ( AMD Radeon HD 6290 ), a good performer and well suitable for watching HD videos. You can not expect this graphics card to work hard for high end games which is not the intention of this netbook's design. A 500GB hard disk drive and 2GB of DDR3 RAM comes with this unit.
Have whole lot of connectivity and communication options. HDMI out, USB 2.0 and USB 3.0 ports, RJ45, Combo audio jack and 5in1 card reader. For communication, Acer Laptop AOD 725 has Bluetooth 4.0 and WiFi b/g/n. The LAN is 10/100MBits not Gigabit LAN.
The battery is just a 4Cell 37Wh, quiet enough for reasonable standby. The build quality of this laptop is really good. There is no complaint about the build quality of this netbook.
Related Laptops