iBall Excelance CompBook Mini Laptop
(+) PROS:

This is a perfect mini laptop ( Not a 2-in1) with Windows 10 operating system and 11.6 inch HD display.iBall Compbook Excelance mini laptop is identical to Micromax Canvas L1160 Lapbook. But, this Excelance laptop price is below the Micromax L1160.This one comes with 10000mAH battery. Whereas the Micromax L1160 comes with 4100mAH battery.If you are looking for a mini laptop less than Rs-10000, this one is the perfect laptop. Available with Windows 10 out of the box.HDMI external display from this laptop is working fine. It has no trouble in finding the External hard disk drive via USB 2.0 ports.




(–) CONS:

This laptop works nice and for the price you can't complain the quality of the product. The sensitivity of the touch pad and keyboard feedback are not the best like big brand laptop models.The VGA web camera quality also not so clear. At some times you may feel the 2GB RAM is not enough for multi task works.
iBall Excelance CompBook Mini Laptop Specification:
OSWindows 10
Screen11.6 inch Display
ProcessorIntel ATOM Z3735F 1.3GHz Processor
RAM2GB DDR3 RAM
Storage32GB eMMC Storage
GraphicsIntegrated Graphics
DVD DriveNo DVD Drive
Camera0.3MP Web Camera
Card Readermicro SD Card reader (Supports 64GB Max)
Battery10000 mAH Battery
ConnectivityWiFi b/g/n, Bluetooth 4.0
Ports2x USB2.0, 1x mini HDMI, 1x Headphone/Mic Jack
Weight1.09KG Weight
Max.Thick24mm Thickness
Warranty1 Year Warranty
iBall Excelance CompBook Mini Laptop
NOTE: Last three months we saw so many buyers return iBall laptops. We don't know the exact reason for the returns. So, we like here to recommend RDP Thinbook with 14inch display and Windows 10 which is the best available now below Rs:11000/= . Many buyers are highly satisfied with the quality and 14inch display with full size keyboard of this RDP Thinbook. Have a look before you decide to buy any iBall laptops.
It is a value for money mini laptop under the price of Rs:10000. This iBall Compbook Excelance is a perfect Windows 10 mini laptop bundled with attractive features for your day to day computer works. Browsing the internet, working on office documents, listening to music and watching HD videos all works smoothly.
The ATOM processor with 32GB eMMC storage provides fast loading times of operating system and programs.
The display on another Micromax Canvas L1160 is an IPS display. It the same in this iBall Compbook Excelance. We observed very good viewing angle without any black shades . Producing good colour and clarity pictures.
The 10,000 mAH battery is an added bonus for long battery backup time. Good for watching movies while you are on the move.
Related Laptops
iBALL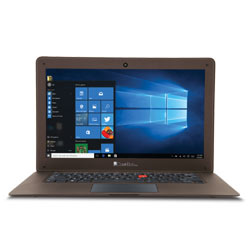 OSWindows 10
Screen14 inch Screen
ProcessorIntel ATOM Z3735F 1.3GHz Processor
RAM2GB RAM
Storage32GB eMMC Storage