Asus ZenBook UX305FA-FC008T
(+) PROS:

This is a powerful,cool, silent, highly portable laptop. The Intel® Core™ M-5Y10 Processor is powerful and at the same time consumes less power. The 256GB of pure SSD storage will instantly start this machine, quickly search your files and swiftly open your apps and programs. The fanless design helps quiet operation and the ASUS's IceCool technology prevents the heat build up on the palm rest. With 1.5mm key travel, it is one of the best for speed typing. The high quality IPS display comes with stunning colors and 178 degree of viewing angle. Very light weight. Comes with 3 nos of USB 3.0 ports and with one those three comes with USB Charge+ technology for fast charging of external devices. Best laptop for business people and for travellers.




(–) CONS:

Nothing to complain. Purposefully designed with all latest technology. Great value for the money you spend.
Asus ZenBook UX305FA-FC008T Specification:
OSWindows 10 Home
Screen13.3inch IPS Full HD (1920x1080)
ProcessorIntel® Core™ M 5Y10 Processor, 2.0 GHz
RAM4GB DDR3 RAM
Storage256GB SSD SATA3 Drive
GraphicsIntel® HD Graphics 5300
DVD DriveNo DVD Drive
CameraHD Web Camera
Card ReaderSD/SDHC Card Reader
Battery3 Cell Battery
ConnectivityWiFi 802.11ac, Bluetooth 4.0
Ports3x USB3.0, 1x microHDMI, 1x SD Card Slot, 1x Audi Combo Jack
Weight1.2KG
Max.Thick12.3mm
Warranty1 Year
Asus ZenBook UX305FA-FC008T
When you look at this laptop, the first thing that will impress you is the sophisticated finish of the outer body with the diamond cut chamfered corners. This laptop will best suit for business people and frequent travellers. The low power consuming processor with the fanless design provides you a solid 10 Hrs of battery backup.
Even without the fan, this Asus ZenBook UX305FA operates cool. The palm rest is designed to be cool well below your body temperature always. There is no more fan noise in your business meetings. Perfect to carry with gross weight of 1.2Kg only.
The Intel® Core™ M-5Y10 Processor is designed for maximum performance with less power consumption. The Thermal Design Power of this processor is only 4.5W, much lower than the 15W of Core i3 5010U processor.  Apart from the low TDP, ASUS also provide a this 0.5mm diameter chromium-copper alloy tube to dissipate the heat from the processor to keep is cool all the time. The base frequency of this processor is only 800MHz. However, the Turbo frequency is 2.0GHz to give what you need at big demands.
The best quality IPS display is another great feature on this laptop. It produces stunning colours and most importantly you will get about 178 degree of viewing angle.
The touchpad is in good enough size with Smart Gesture technology which gives you natural feel like you feel on a smartphone or tablet. ASUS designed it with high sensitivity and good accuracy.
Another best feature we like on this Asus ZenBook UX305FA laptop is the keyboard. It is an one piece chiclet keyboard with 1.5mm of key travel. With this 1.5mm key travel and well controlled key float, you could go for a typing competition. We guaranteed that, you could win the competition with satisfying typing feeling.
Comes with three numbers of latest USB 3.0 ports for fast data transfer. On these three, one port comes with USB Charger+ technology. What it means is, you could quickly charge externally connected devices from this port, even while the laptop is on sleep mode.
Go for it if look for a fast, powerful, cool and silent laptop with great battery back up time and great look. A perfect business laptop from ASUS.
Related Laptops
ASUS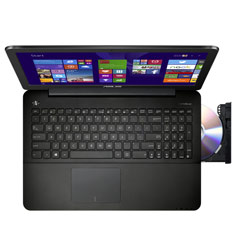 OSWindows 8.1
Screen15.6" HD LED
ProcessorCore i3-4030U 1.9GHz
RAM4GB DDR3 RAM
Storage500GB HDD
ASUS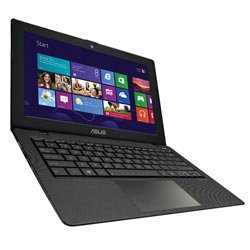 OSWindows 8.1
Screen11.6" LED
ProcessorPentium N3540 2.16GHz
RAM2GB RAM
Storage500GB HDD
ASUS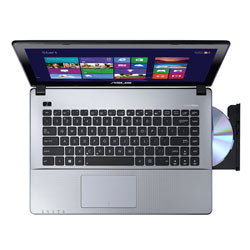 OSWindows 8.1
Screen14" HD LED
ProcessorCore i3-3217U 1.8GHz
RAM2GB DDR3 RAM
Storage500GB HDD