Macbook Air 11.6inch 128GB MD224HN/A
Macbook Air 11.6inch 128GB MD224HN/A Specification:
OSOS X Lion
Screen11.6" Display
ProcessorCore i5 1.7GHZ Processor
RAM4 GB DDR3
Storage128GB Flash Drive (SSD)
GraphicsIntel HD Graphics 4000
DVD Drive
Camera
Card Reader
Battery
Connectivity
Ports
Weight
Max.Thick
Warranty
Macbook Air 11.6inch 128GB MD224HN/A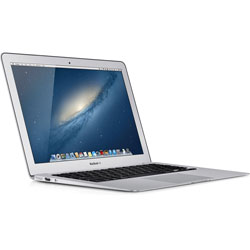 This Macbook Air has all the features of a regular laptop but has much more packed into a shocking weight of just around 1 kilo! The 11inch display may seem smaller than conventional laptops, but it is packed with amazing display features that making viewing movies or working less stressful for the eyes. It is also packed with Intel HD graphics 4000 with processor with up to 1GB DDR3 SDRAM which it shares from main memory. It also comes with unexpectedly powerful speakers, making the Mac Book Air useful for even entertainment needs. This small wonder can be easily slipped into your backpack and is built for travel. It comes with a robust aluminum casing, despite its thin look.
Packed with a dual core i5 processor that runs at 1.7 GHz, it has lightening fast response time; you can instantly start working on your Macbook Air after waking it up from the sleep mode. Apple came out with the Macbook Air series packed with features that make it easy to carry yet powerful enough to work with. Apple has gotten rid of features that are not required while constantly on the move. Yet it has not compromised much in the performance area. Its RAM consists of a 4GB DDR3L-1600, which ensures superfast processing speeds. While it may seem like the ultra thinness of the laptop may have sacrificed its internal hard drive, it relies on flash memory that provides 128 GB memory which is quite sufficient for work on the move. Once hailed as the thinnest laptop in the world, the Macbook Air still packs a lot of punch and has managed to update itself to survive in the competitive laptop market.
Pros
Small, extremely light and easy to carry
Sleek and stylish design
Battery lasts for a whopping 5 hours, once charged fully
OS-X operating system-virtually virus free
Superior response times
Internal memory can be upgraded to 8 GB
Works on Intel dual core i5 Processor
Full size keyboard, despite small look overall
Cons
Mainly meant for wireless connections
Ethernet connections are optional and need to be done via external adapter
No removable battery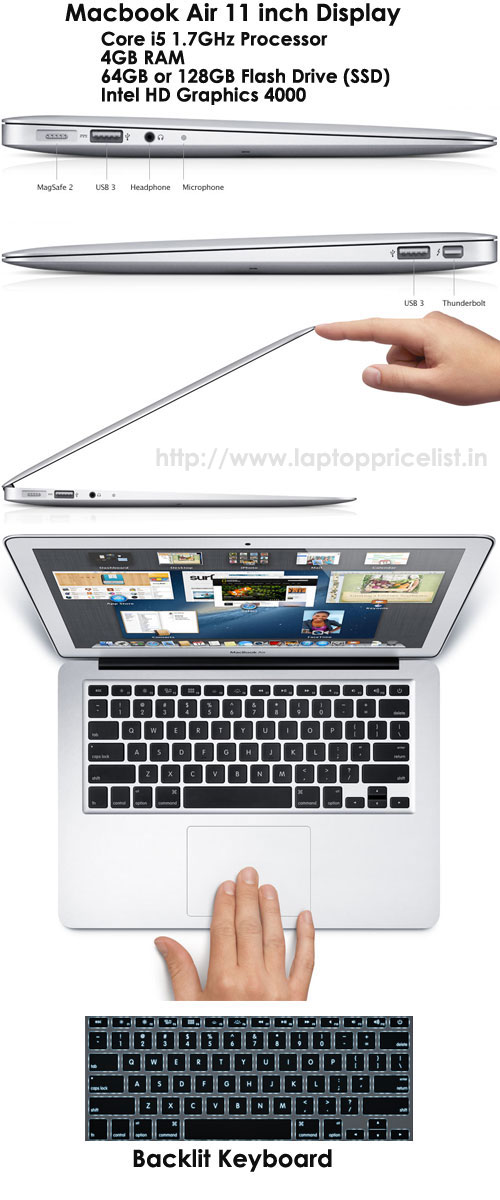 Related Laptops
MACBOOK AIR
OSOS X Lion
Screen11.6" Display
ProcessorCore i5 1.7GHZ Processor
RAM4GB DDR3 RAM
Storage64GB SSD
MACBOOK AIR
OSOS X Lion
Screen13.3" HD Display
ProcessorCore i5 1.8GHZ Processor
RAM4GB DDR3 RAM
Storage128GB SSD
MACBOOK AIR
OSOS X Lion
Screen13.3" HD Screen
ProcessorCore i5 1.8GHZ Processor
RAM4GB DDR3 RAM
Storage256GB SSD