MacBook Air 11.6inch 64GB MD223HN/A
MacBook Air 11.6inch 64GB MD223HN/A Specification:
OSOS X Lion
Screen11.6" Display
ProcessorCore i5 1.7GHZ Processor
RAM4GB DDR3 RAM
Storage64GB SSD
GraphicsIntel HD Graphics 4000
DVD Drive
Camera
Card Reader
Battery
Connectivity
Ports
Weight
Max.Thick
Warranty
MacBook Air 11.6inch 64GB MD223HN/A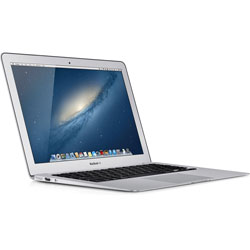 It is approximately 70 grand that you pay for this stunning Macbook Air that features a sleek and slender design that perfectly fits your need of travel and daily usage. Packed with features that offer the best of performance similar to that of any other laptops, the Macbook Air might be just the one that offers a combo of both performance and a light-weight nature. That makes it more ideal to be carried around and flaunted with ease.
Display
The amazing display helps you relax a bit at strenuous work or help you watch videos and play high resolution games with ease. Right from entertainment to hard work coming along, you are assured of quality, performance, and a seamless display that offers it's best to the users. The Intel HD Graphics 4000 makes it all the more easy to view and plays it easy with your eyes.
The make
Featuring a powerful core 15 processor, the Macbook Air runs at a speed of 1.7 GHz and delivers superior response times, which actually makes it easier for you to work with your Macbook Air when it awakens from the sleep mode. The Dual core processor runs up to a 1GB DDR 3 RAM, which is actually shared from the main memory. The faster response times and power packed features make it a great carry around and can be tucked into your backpack with ease. Despite its gorgeous looks, Macbook Air features an aluminum casing that delivers a sturdy look.
It might look that the thin nature of the laptop might not accord for its performance and storage, but the 128GB flash drive speaks for it all and is more than sufficient for what is required on the move. Despite being hailed as one of the thinnest laptops in the world, Macbook has hoards of features within and has stood against the tough competition of its peers.
Advantages
Sturdy nature, despite its thinnest and sportive looks
Slender and stylish design with amazing features
The state-of-the-art OS system
Efficient response times
Upgradation of the internal memory
Dual Core i5 Processor
A wholesome keyboard
Disadvantages
Works well only with wireless, while Ethernet requires the usage of an external adapter
Battery cannot be removed
MacBook Air 11.6 Product Image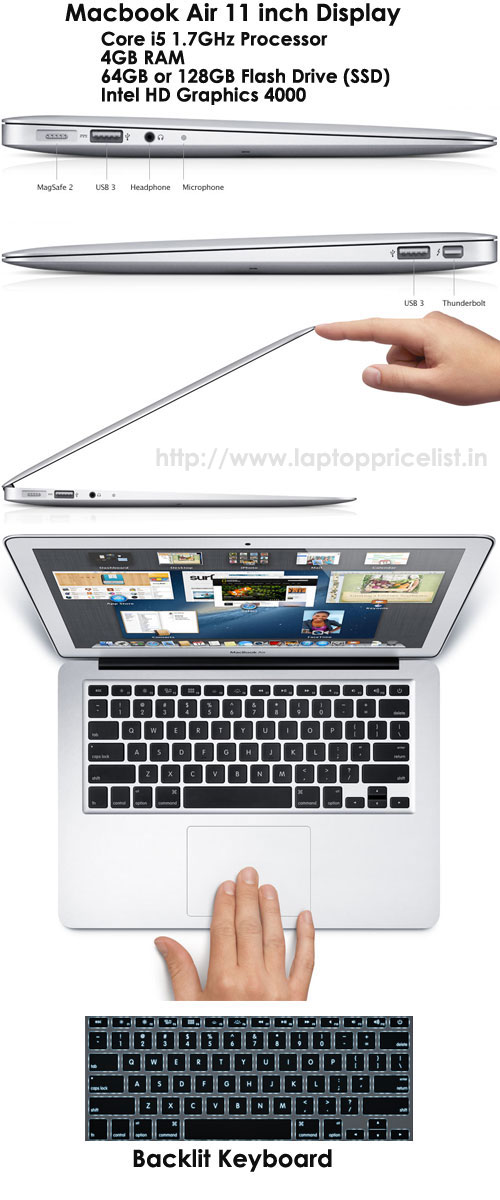 Related Laptops
MACBOOK AIR
OSOS X Lion
Screen13.3" HD Display
ProcessorCore i5 1.8GHZ Processor
RAM4GB DDR3 RAM
Storage128GB SSD
MACBOOK AIR
OSOS X Lion
Screen11.6" Display
ProcessorCore i5 1.7GHZ Processor
RAM4 GB DDR3
Storage128GB Flash Drive (SSD)
MACBOOK AIR
OSOS X Lion
Screen13.3" HD Screen
ProcessorCore i5 1.8GHZ Processor
RAM4GB DDR3 RAM
Storage256GB SSD