MacBook Air 13inch 128GB MD231HN/A
MacBook Air 13inch 128GB MD231HN/A Specification:
OSOS X Lion
Screen13.3" HD Display
ProcessorCore i5 1.8GHZ Processor
RAM4GB DDR3 RAM
Storage128GB SSD
GraphicsIntel HD Graphics 4000
DVD Drive
Camera
Card Reader
Battery
Connectivity
Ports
Weight
Max.Thick
Warranty
MacBook Air 13inch 128GB MD231HN/A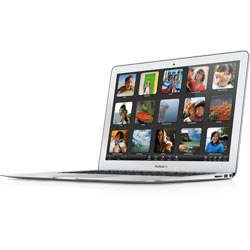 Are you looking to own a Macbook yet searching for one with the best price range and gorgeous features to the core? Wish to see a stunning display on a superfluous Mac OS on a reasonably lit 13-inch screen? Your search ends here with the all new MacBook Air that features a 13-inch display, yet delivers undisputed looks and glam. MacBook Air comes with features that just deliver seamless performance, along with high-end processor that helps you work, game, and play with high-end graphics at the same time with ease.
Work with many VMs or even play NFS tuned to the best of the resolution, MacBook Air has it all, what it takes to deliver the best of the performance. What's more when you get a whole range of features that can be carry around with a few pounds of weight? The speakers are undoubtedly powerful and make it ideal for entertainment needs as well. Slip aside the MacBook Air into your laptop and flaunt around with ease. The robust aluminum case ensures that this little wonder remains intact and offers a great tensile strength to your laptop.
Processor
The dual core 15 processor offers superior performance at a reasonable speed of 1.8 GHz, which actually does not compromise on performance despite high-end work out. The response time is near to instant and MacBook Air wakes up in an instant with ease. The features are powerful and unique such that you would wish to use them every now and then. Apple, well known for its innovation is also on the move to eliminate features that do not work and hence MacBook Air is rid of features that users actually do not covet for.
Memory and RAM
The RAM consists of a 4GB DDR3L-1600 that helps in high-end processing with ease. Although the thinness of the laptop might seem that it looks fragile and delicate, it so happens that the 128GB Flash memory coupled with Graphics 4000 makes it ideal for working hassle free.
The 13-inch display and Graphics 4000 make it ideal for usage, and helps viewing hassle free. Take advantage of the slimmest looks and the large keyboard together with the elegant display and sport around your MacBook Air.
Advantages
Sleek and slender design makes it an ideal carry around laptop
Powerful battery life that lasts for 5 hours on the go, when completely charged
Mac-OS that is well-known for its hassle-free operation and is virus free
Upgradation of internal memory to 8GB
Intel dual core i5 processor offers multitasking with ease
Oversized keyboard with all the keys intact despite the thin looks
Disadvantages
MacBook Air is a little troublesome with wired connection, as the Ethernet requires connectivity by means of external adapters
Battery is non-removable.
MacBook Air 13.3

Related Laptops
MACBOOK AIR
OSOS X Lion
Screen11.6" Display
ProcessorCore i5 1.7GHZ Processor
RAM4GB DDR3 RAM
Storage64GB SSD
MACBOOK AIR
OSOS X Lion
Screen11.6" Display
ProcessorCore i5 1.7GHZ Processor
RAM4 GB DDR3
Storage128GB Flash Drive (SSD)
MACBOOK AIR
OSOS X Lion
Screen13.3" HD Screen
ProcessorCore i5 1.8GHZ Processor
RAM4GB DDR3 RAM
Storage256GB SSD