MacBook Air 13.3inch 256GB MD232HN/A
MacBook Air 13.3inch 256GB MD232HN/A Specification:
OSOS X Lion
Screen13.3" HD Screen
ProcessorCore i5 1.8GHZ Processor
RAM4GB DDR3 RAM
Storage256GB SSD
GraphicsIntel HD Graphics 4000
DVD Drive
Camera
Card Reader
Battery
Connectivity
Ports
Weight
Max.Thick
Warranty
MacBook Air 13.3inch 256GB MD232HN/A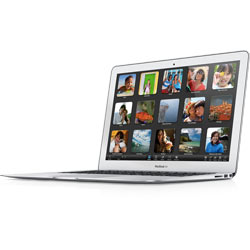 Not really long ago, Macbook Air had its unique presence in the laptop arena with exquisite blend of design, performance, quality, and more. It was an improvisation of the thinnest laptop released by Apple that works well with a low voltage processor. The MacBook Air 13-inch is an influence of the ultrabook and features to compete the newly designed Windows ultrabook, and is working out hard to make its way with the all new features set within.
Well, the truth remains that MacBook Air 2012 does not remain the coolest of all the Mac Laptops anymore. The limelight is now on Macbook Pro featuring a retina display. Nevertheless, MacBook Air still remains one of the ultrathin laptops ever, feature style, performance, and its ergonomic design.
The 13-inch Macbook Air sports the same features as that of MacBook Air released last year, expect for a few marked differences in
The core i5 processor
 USB 3.0 in place of USB 2.0
A higher definition web camera
Charge cable MagSafe 2 along with the connector.
Further, the solid 256 GB features almost the same cost as that of the MacBook Pro. Although MacBook Air does not feature Lion, which is a new-gen OS X, it is expected that an update will be available as soon as it is released.
Looking out for a Macbook that can be sported with ease? Turn on to MacBook Air, the ultimate Macbook in the current market that is for the masses. It is lighter, performs better and is also extremely less expensive when compared to the all new MacBook Pro. With the Air on the go, you actually do not require an update, but is by far the best ever sold.
Design
The aluminum body of the MacBook is extremely solid and the wedge like shape has formed the influence for many of the Windows Ultrabooks. Nevertheless, as with the iPhone, where it stoodout initially and then faded with competitors seeping in, the MacBook Air is no such exception. The keyboard is pretty comfortable with quite a few shallow keys, but do have some bit of extra space for convenience. At a weight of nearly 2.96 pounds, the laptop can be tucked into any bag with ease.
The large, patented click pad can be multi fingered and is one of the best touch pads ever. There are no hiccups and it remains as smooth as ever. Nevertheless, with a perfect sync of hardware and software, there is no Windows ultrabook that stands on par with MacBook Air.
Display
However, when compared to the 11-inch of Macbook Air, the 13-inch does not feature a 16:9 display, but the aspect ratio remains the same. Futher, the edge-edge  glass surrounded by a black outer is also absent in MacBook Air, but features a fairly good resolution of 1440 x 900 pixels. The anti-glare coating works better than Pro and offers superior looks.
The MacBook Air features OS X 10.7.4 Lion, however, users are subject to a free OS update when the Mountain Lion is released. Further, users are also presented with the iLife software suite that offers iPhoto, iMovie, and the GarageBand. Although the speakers in this version of MacBook Air are not that stunning, they make a fair deal when it comes to movies and games.
Positives
Good CPU life
Superior Battery life
Improvised WebCam
USB 3.0 ports
Cons
No Ethernet port
Storage can be increased for an Ultrabook.
MacBook Air 13.3 Product Image

Related Laptops
MACBOOK AIR
OSOS X Lion
Screen11.6" Display
ProcessorCore i5 1.7GHZ Processor
RAM4 GB DDR3
Storage128GB Flash Drive (SSD)
MACBOOK AIR
OSOS X Lion
Screen11.6" Display
ProcessorCore i5 1.7GHZ Processor
RAM4GB DDR3 RAM
Storage64GB SSD
MACBOOK AIR
OSOS X Lion
Screen13.3" HD Display
ProcessorCore i5 1.8GHZ Processor
RAM4GB DDR3 RAM
Storage128GB SSD