Macbook Pro MD104HN/A
Macbook Pro MD104HN/A Specification:
OSOS X Lion
Screen15.4
ProcessorCore i7
RAM8GB DDR3
Storage750GB HDD
GraphicsIntel GFX 4000
DVD Drive
Camera
Card Reader
Battery
Connectivity
Ports
Weight
Max.Thick
Warranty
Macbook Pro MD104HN/A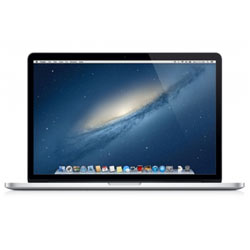 Apple is well-known for its frequent updates to its MacBook Pros and the genre of laptops are under constant vigil. At the front, the updates to these laptops basically fall under two different categories:
Updates to the unibody construction, for instance, the aluminum unibody that was introduced way back in the year 2008 and
Minor spec updates that often happen to the processor and the size of the hard disk.
The latest version of Macbook Pro surprisingly doesn't fall under these two categories. The aluminum body remains just the same and so also the multi touch keypad and it just looks similar as its predecessor. However, the internal components are a mere spec upgrade.
The 15-inch Mac Pro features a high-end i7 processor with a performance of 2.66GHz, a memory of 4GB RAM and a 500 GB SSD.
The make
As with the earlier versions of the MacBook Pro, the unibody features a solid chunk of aluminum that features a tapering outer structure that features a strong support to it. The outcome is a thing but an extremely strong chassis that delivers solid tensile strength. Apparently, the white MacBook also features a similar design and structure.
The trackpad
The multi-touch trackpad, the most fond feature of Pro is almost vital as it is to any Apple device, be it the iPad or the iPhone. You can also plug in and play with a mouse, but you actually get to miss out the various gesture-based controls that tend to save in a lot of time with ease.
Swivel to the left or the right to switch between applications and the up gesture hides all your windows that are active. With a little practice on these gestures, you will love it and would never want to turn back to a mouse. History has witnessed many manufacturers adding up different forms of gesture recognition, but if there is something else as good as that of the Apple, we are yet to know.
The tweak
A minor tweak to the earlier versions of Apple track pad is the "inertial scroll," a feature that is also present in the iPad and the iPhone, where you can actually flick fingers up and down and scrolling is something that is more than mere effort. With that done, you begin to notice that the page eventually moves up slightly after your fingers are lifted.
The display
The wide screen display featuring a stylish 5.4 display offers a very native pixel resolution of about 1440 x 900, which is actually a continuation from the earlier models. However, the implementation of HD video and higher resolutions with many digital cameras, users are now on the throng for a better display. However, there is yet another display that features 1680 x 1050 pixels that are available, which actually cost you 10 grand extra, but it is worth spending, if you are really on the look for a higher resolution and display. Another 15 grand more will fetch you a display with an anti-glare coating, but at the end of the day, a laptop worth so much should include these features by default.
The GE Force 9400
Pro 15-inch features instant switching between graphics that is actually powered by Nvidia's Optimus graphics switching technology. The secret is quite simple. The laptop uses the integrated graphics by default, however, there is an app that launches the discrete Nvidia GEForce GPU that helps to switch over to a superior range of graphics and turns it away when not required.
The integrated GEForce 9400 is actually found in last year's MacBook Pro as well and you are required to flip in a software manually for the options to power on and then log out and log for the operation to take effect. Although it is not a hardcore powerhouse for gaming, it should help you just play any PC game with ease. Nevertheless, you need to dive down to the individual resolutions all by yourself and the biggest advantage that stands out is that your battery doesn't drain off in an instant when these games are on.
Pros
Fast and efficient core i7 processor
Nvidia graphics
Switch between GPUs with ease.
Cons
No HDMI
No Blu-Ray
No high end features despite the increased price tag.
Related Laptops
MACBOOK
OSOS X Lion
Screen15.4inch
ProcessorCore i7
RAM4GB DDR3
Storage500 GB HDD
MACBOOK
OSOS X Lion
Screen13.3" HD Display
ProcessorCore i7 processor 2.9GHz
RAM8GB of 1600MHz DDR3L
Storage750GB Hard Disk Drive
MACBOOK
OSMac OS X Lion
Screen15inch 2880 x 1800 Retina Display
ProcessorCore i7 2.7GHz
RAM8GB DDR3
Storage512GB SSD